Te Waka
We are here to honour our tupuna, their amazing innovation, navigation, and trading capabilities.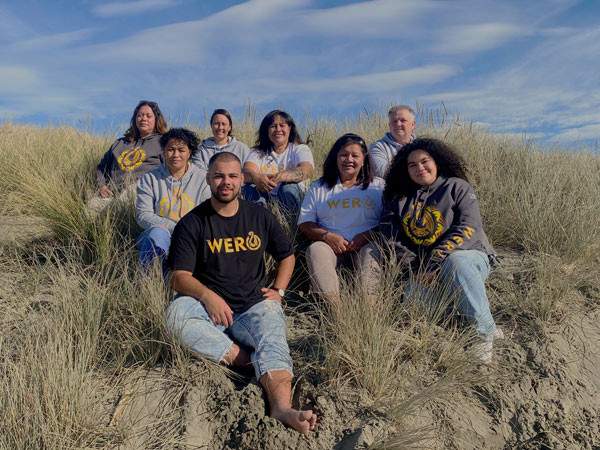 WERO is about honour
Māori and Pasifika ancestors were masters of forging and maintaining relationships over the whenua and moana. At WERO, we honour our own knowledge systems, our own ways of being, our own visions of success.
By honouring our tupuna and our rangatahi, we also honour our future generations in the hope they will reclaim their heritage. We also honour the promises made under Te Tiriti o Waitangi of equal citizenship.
WERO is developed and created by Flying Geese Pro. We are an organisation dedicated to uplifting indigenous people, to help them find their voices and tell the true stories of their lives in business. Our WERO wayfinding team is a reflection of the community we serve, of Māori, Pasifika and Tāngata Tiriti.
Our Tohu (Logo)
Our WERO tohu was designed by Thomas Te Whaiti Henry (Ngāti Kahungunu / Cook Islands) who has his own company Rā Designs, which is based in Otepoti / Dunedin. "I have based the theme around moana or water. There are patterns and symbols that help represent the water and the sun - two elements that help with navigation and wayfinding. There are symbols that represent community, helping each other, a team effort and everyone's work is highly appreciated. The flower and leaf patterns represent the beauty in us, our people, our culture and our land. The more you take care of a flower, the stronger it will be when it blossoms. This is the same as when you look after other people."
Our Team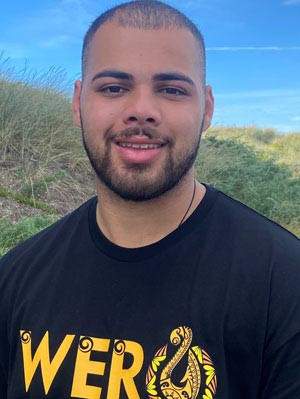 Lopeti Sumner
Co-host and WERO Coach
Lopeti is a co-host of WERO and a key staff member of Flying Geese, helping to design and deliver Wayfinding programmes. At 20, he is currently on scholarship to become a financial advisor. He was a facilitator for the Wayfinding for Life programme in 2020-2021, as well as part of the touring consultation team for Te Hau Komaru - the national waka hourua association. Lopeti is also a facilitator in the Wayfinding for Treaty Partnership programme.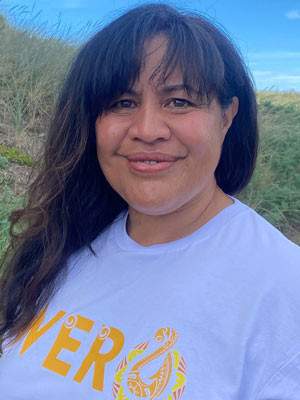 Faumuina Felolini Maria Tafuna'i
Founder & CEO
Hailing from the villages of Mulifanua and Asaga in Samoa, Faumuina is the daughter of Ifopo Lopeti and Nivaga. She carries the Tafuna'i from her late husband Patrick, and continues to guide their son Oliver.
She is an award-winning journalist and an ocean voyager. Guided by navigator Hoturoa Barclay-Kerr, Faumuina created a wayfinding system that takes the wisdom of celestial navigation and voyaging and transposes it into a strategic framework. She has developed and run programmes for Oxfam, UN Women and UNDP. Faumuina has also worked for Ngāi Tahu and Waikato Tainui. She is also an Edmund Hillary Fellow.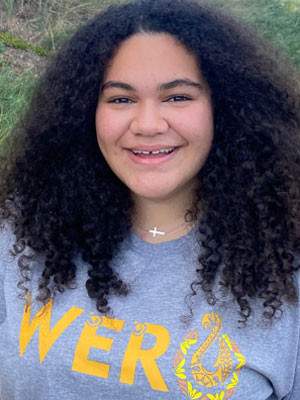 Lasela Sumner
WERO Team
Sela has whakapapa lines to Samoa and Scotland and was born and bred in Ōtautahi. Daughter to Selau and niece to Faumuina, she is one of 15 siblings in a blended whānau. She played netball, basketball, and volleyball in high school and graduated as head girl in 2020. She comes to our WERO team passionate about Māori and Pacifica rangatahi realising their full potential.
If she could offer one piece of advice to herself as a high school student it would be to make full use of opportunities like WERO and to take these learnings outside of the classroom. Sela lives in Ōtautahi Christchurch where she plans to study and earn her teaching degree.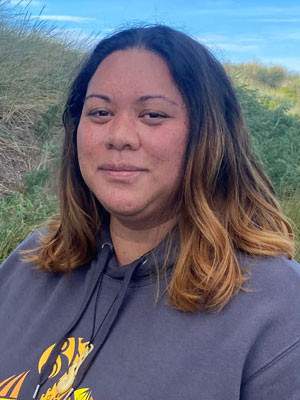 Felicia Whiu
WERO Coach
Felicia hails from the Horowhenua/Manawatu and Pēwhairangi regions of Te Ika a Māui and is now based in Ōtautahi. She began life as an only child and over the years has become the oldest of 9 in a blended whānau. After years of living overseas, Felicia returned to Aotearoa to work in construction management and quantity surveying so she could support her mum in caring for her Nan and Koro.
Motivated by improving her hauora and wellbeing, she co-founded Fe and T consultancy alongside her mum Tracey. They support small to medium businesses in their startup, operations, and growth phases by providing support where needed. Felicia arrives to our WERO team passionate about supporting whānau as they step into their tino rangatiratanga through business endeavours, in a way that is relatable and culturally relevant.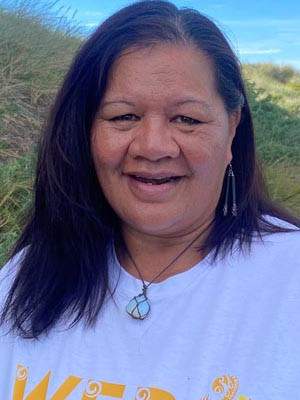 Tracey Waho-Blayney
WERO Coach
Throughout the years her career has continued to develop with special focus on project management, change management, governance and secretarial mahi. After dedicating many years to working for Ngāi Tahu, Erickson Australia, Massey University, Christchurch City Council and Lincoln University, Tracey went on to establish Fe & T Consultancy with her daughter, Felicia.
With whakapapa lines to Levin, Karioi and Pakipaki areas, Tracey is one of 10 children from a happy, at times hectic, family. As a young Mum, Tracey joined the early digital revolution in 1994 through studying and then teaching at EIT Institute in Hastings.
Tracey aspires to a world where rangatahi have more freedom to develop their ideas. She lives in Ōtautahi where she cares for her whangai daughter with special needs.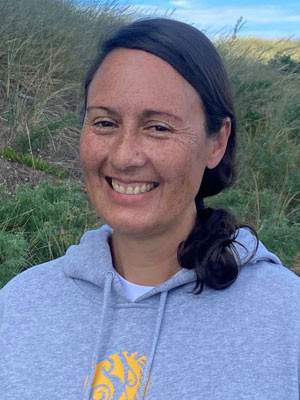 Janyne (Dottie) Morrison
WERO Coach
Dottie is Ngāi Tahu and hails from Arahura. Dottie arrives to our WERO team as a seasoned coach with a kete full of different skills such as strengths-based coaching and a passion for building belief, especially among rangatahi. She currently resides in Ōtautahi with her community focused husband and their three teenage kids.
With a masters in human resources, she has worked extensively for her iwi, Ngāi Tahu, building their capability plan with special focus on developing pathways to grow their people from primary school through to adulthood. Dottie is a self-employed coach and collaborates with other like-minded people builders and change makers. She is a partner in Tū Māia and coaches Whānau Ora start-ups and social enterprises.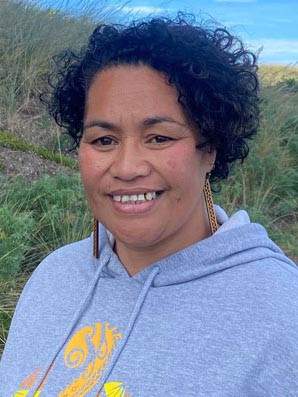 Selau Ifopo
WERO Coach
Selau is the fourth child of Ifopo Lopeti and Nivaga Ifopo from Samoa. She and partner Ioka are parents to a blended family of 15 children. Selau spent a decade with Work and Income NZ, then Ministry of Social Development, where she founded sPacifically Pacific – a careers and leadership expo that is now an annual event in Canterbury.
She then set up a Trust focussed on mentoring Māori and Pasifika High School students. She has held recruitment and community engagement roles in Corrections, Stats NZ, and Ara Polytechnic. She comes to WERO through her expertise in working with Māori and Pasifka communities.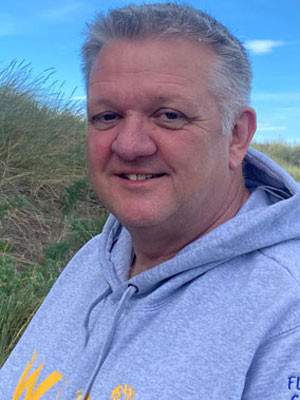 Danny Kearns
WERO Coach
Danny is of Ngāi Tahu (Ngāti Irakehu) descent, and was born in Ōtautahi, Christchurch, where he still lives. Danny has a long background in business, having worked in both large and small organisations. He has worked with many Māori and Pasifika businesses, helping them with their online presence including web design, social media marketing, and design.
Danny is passionate about helping people reach their potential, and about equality and equity for those who are disadvantaged by systemic racism.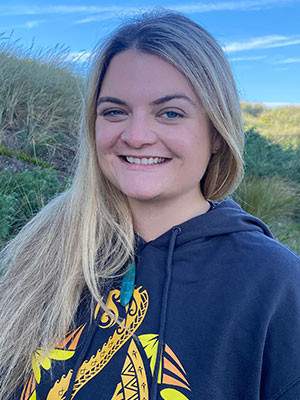 Caitlin Sowden
WERO Coach
Caitlin grew up in Paekakariki with whakapapa connections to Kāi Tahu, Te Ātiawa o Te Waipounamu, England, Ireland, and Scotland. Raised by a mum dedicated to social work, Caitlin learned the value of service and connection from a young age.
Through her experience working as a private secretary for the Ministry of Social Development, Caitlin learned to navigate the complexity of their systems. Her time in the capital ignited a passion for authentic story-telling, and prioritising the people and the aroha behind the mahi. Caitlin is committed to returning Te Reo to her family and recently travelled with her Nan to their marae for the first time in decades. She currently resides in Ōtaki where she studies Te Reo Māori full time at Te Wānanga o Raukawa.